Red Brick Warehouse, Motomachi, Mount Hakodate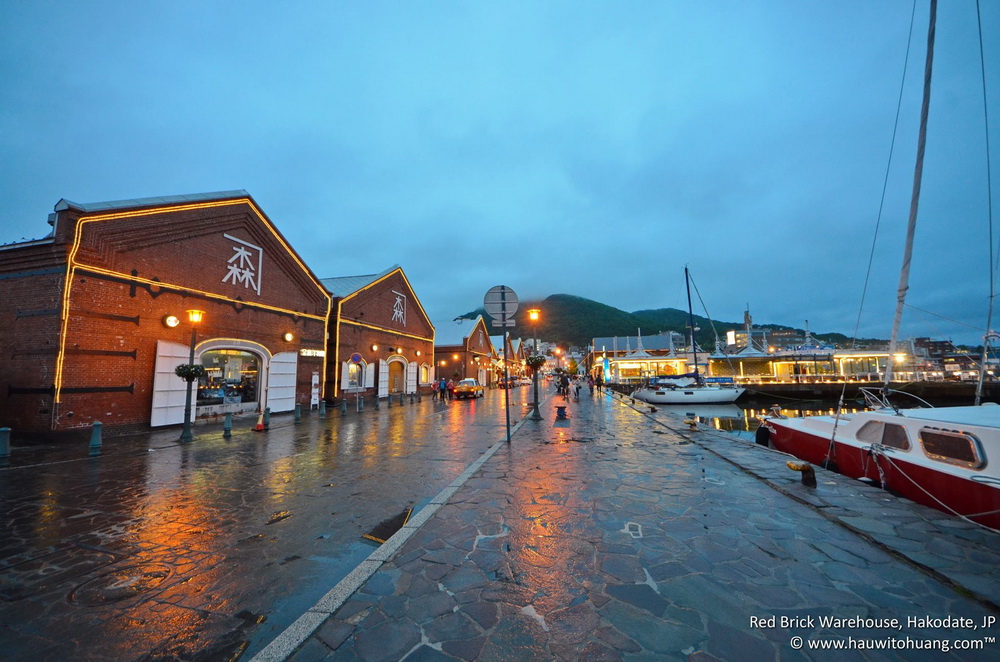 Take the morning train to Hakodate from Sapporo and check to hotel first to drop luggage at New Ohte Hotel near the JR Hakodate Station.
Outside weather is rainy so we have a lunch in a restaurant inside the station while waiting the rain stop. After ate the rain still pouring, we opt to still get to the hotel with umbrella.
Red Brick Warehouse
After check in and drop luggage we walk to Red Brick Warehouse. But we decided to turn around and go to tram station riding the tram instead walking in the rain. Hakodate eki-mae is the station name near the hotel or JR station and to Jiujigai the nearest station of the Red Brick Warehouse.
Several red brick warehouses from past trading days survive along the waterfront in the bay area of Hakodate, and have recently been redeveloped into an atmospheric shopping, dining and entertainment complex.
Besides a typical range of trendy souvenir, fashion, interior and sweets shops, the complex also features a restaurant, a beer hall, a chapel for weddings and sightseeing cruises of the bay.
Motomachi
From there we walk to Motomachi area where many foreign looking buildings remain in the area today. Among the most famous are the Russian Orthodox Church, the Old British Consulate, the Chinese Memorial Hall, the prefectural government's former branch office building and the old Hakodate Public Hall.
This is a result of many traders from Russia, China and Western countries moved to Hakodate. Motomachi, at the foot of Mount Hakodate when the harbor of Hakodate opened to foreign trade in 1854 after Japan's era of isolation had come to an end. Soon it became a district favored among the new foreign residents.
Mount Hakodate
We continue walking up until arrive at Hakodate Ropeway for riding to Mount Hakodate. Ascend to the top the fog is very thick and we can't look and view anything. We know this in the beggining but still we decide to go up since we already here.
Not long at top we back down with ropeway to the base station decided better back to Red Brick Warehouse again. But unfortunatenely when we arrive the place is in process of closing. So we just stroll around take some photograph and go back to hotel with the tram again.
Trip Map