Small Swiss Garden, Cinjing Farm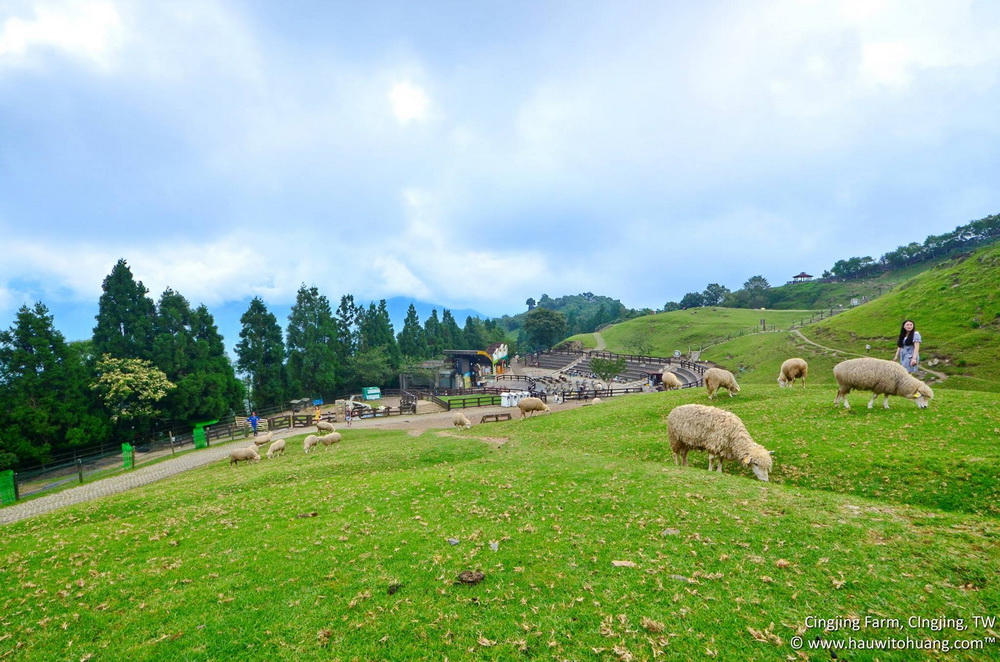 This Eid we have a vacation to Taiwan for 9 days, our flight is with AirAsia I have bought it last year when promotion. Taiwan have a Visa Exempt for Indonesian, the requirement is that you have one of US, Schengen, Australia, NZ, Korea or Japan Visa with at least 10 years before. You can applied it online thru their website and its free.
Our flight transit in Kuala Lumpur before night flight to Taipei Taoyuan International Airport. Arriving at Taoyuan we take Ubus no.706 with fare 48nt per person to Audi Business Garden Hotel in Taouyuan city near the train station. Before get to hotel we stoping by first at Family Mart nearby for exchanging all the train ticket that we have already bought it online. You can exchange at 7/11 too or at train station. If at convenience store they will charge you 8-10nt for each ticket.
In the morning we take taxi to HSR Taoyuan station at Gaotie road, we opt for taxi because the earliest shuttle bus 206 from Taoyuan station to HSR Taoyuan is at 6:20, while my train reservation is at 6:49, so afraid of can't make it that why we choose taxi, the fare is 350nt.
From HSR Taoyuan take 803 to HSR Taichung and then go down to 1st floor exit 5 where Nantou bus ticket counter at. We bought 5day pass Sun Moon Lake and Alishan for 450nt per person. This pass will take you from Taichung to Sun Moon Lake and from Sun Moon Lake to Alishan with bus.
Arrive at Sun Moon Lake we go to hotel to left our luggage and the back again get on bus to Puli Station. The ticket from Sun Moon Lake to Puli is 59nt, then continue to Cinjing Farm for 115nt buy the ticket at Puli Station. If you want direct from Taichung you can also opt for Cinjing Farm Pass that will take you from Taichung to Puli and then continue to Cinjing and return to Taichung again. You can access the Nantou bus website for many other pass available.
Small Swiss Garden
Arrriving at Cinjing we go to Little Swiss Farm first, entrance fee was 120nt per person with 20nt discount coupon for purchasing anything at the small café inside. This place is European-style garden created with temperate flowers and all kinds of totems are created by flowers of different colors. Besides, the Lakeside Trail, Cryptomeria Trail, Maple Trail, Bald Cypress Trail, moon-shaped boardwalks and a number of plant trail s are all connected, making you feel like strolling in Europe without taking the flight. Besides, new couples often come to the Park to take photos, so it is a place that must not be missed by people who love taking photos.
Cinjing Bridge & Cinjing Farm
Finish then we go head up to Cinjing Visitor Centre and then take the walkway next to visitor center at left side. To enter the walkway should buy a ticket 50nt per person. It's about 2km long until Cingjing Far, or Green Green Grassland. At the end of the walkway just cross the street and buy a ticket entrance to Cingjing Farm which was 160nt per person.
Cinjing Farm is known as a "Foggy Eden" far away from the city area in the mountains, Qingjing Farm is great for those who enjoy fresh air, lush forests, acre of flowers along the plains and hillside, and beautiful starry nights.
Located in the northern section of Qingjing Farm is Green Green Grassland, which is an open pasture ground for livestock such as sheep and cows to roam and graze freely. Visitors are able to see the animals up close and interact with them.
Sheep Show and Horse Performance are available in weekend only. Not performing when we 're visiting here.
Finish up then we back to Sun Moon Lake transit at Puli Station again just like when we get there. Back to hotel have refreshment and then get out to have a dine at a restaurant nearby.
Trip Map