Yehliu Geopark, Shifen Waterfall & Old Streets, Jiufen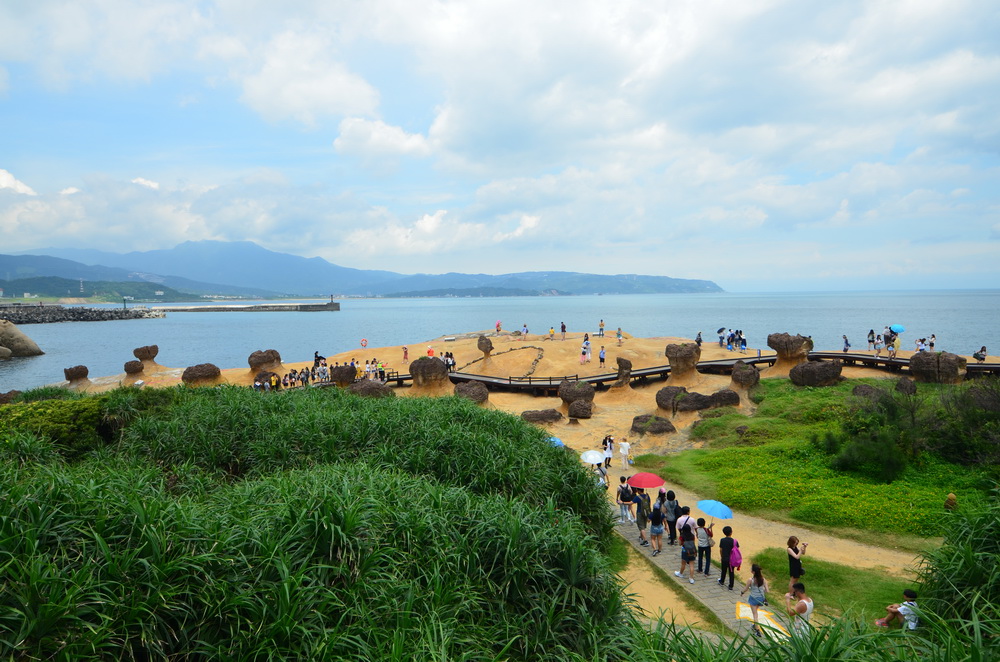 Today we are going to three different place, which is Yehliu, Shifen and then Jiufen.
Yehliu Geopark
From Taipei we first go to Yehliu, from Taipei West Bus terminal we take Kuo Kuang bus no.1815 direct to Yehliu. It will take about 1 hour drive and stop Yehliu road, you need to walk to the Yehliu Geopark.
Yehliu Geopark is a one of the premier destinations in northern Taiwan, it,s a home to a number of unique geological formations including the iconic "Queen's Head", and is located along a cape stretching out from the town of Wanli.
Part of the Daliao Miaocene Formation, the cape stretches around 1,700 meters, formed as thousands of years of geological movement forced the Datun Mountains to change their shape, jutting out into the ocean. Entrance fee is 80ntd per person.
Shifen Old Streets & Shifen Waterfall
From Yehliu Geopark we walk back to the same place we we get off from the bus and get on bus no.790 to Keelung were we continue with bus no.788 from Keelung to Ruifang. The bus stop for 788 is in front of Family Mart, just make sure there is sign board for no.788. Fare for bus no.790 is 30ntd, while for no.788 is 50ntd per person.
Arrive at Ruifang had a lunch first and then straight to train station were we board Pingxi Touris Train to Shifen station. You can buy all day pass if you intend to stop at couple station, while we just buy 1 point ticket for Shifen station at 52ntd.
Arrive at Shifen we pass the old town heading to Shifen Waterfall. The 20 metre tall Shifen Waterfall is located 20 minutes away by walking northeast from the train platform area.
Back from waterfall to Shifen Old Steets, we stroll a while. Located in the Pingxi area Shifen Old Streets is a collection of lanes and alleys in and around the Shifen railway station area. Originally built for transporting coal during the Japanese era, the station and track runs straight through the village. Had an ice shave and seeing lantern being release to the sky with wishes some for the luck, fortune, health, etc written in lantern.
With the marketplace surrounding the train station and the openness in which people can freely cross the track running straight through the centre of town, the marketplace area of Shifen is a great place to grab some xiaochi snack. Events such as the Sky Lantern Festival draw visitors year round to the Pingxi area to create a Chinese Lantern with a wish written on it to set into the sky.
Jiufen
After that we take train back to Ruifang and continue with same bus no.788 to Jiufen at the same spot where we get off earlier.
Jiufen is a mountain town in northeastern Taiwan, east of Taipei. It's known for the narrow alleyways of its old town, packed with teahouses, street-food shacks and souvenir shops. Near central Old Street is the Shengping Theater, established in the 1900s and since restored. Close by, the Gold Mine Museum traces the town's history as a mining hub during the Japanese-era gold rush.
Arrive at Jiufen we heading to our hotel Chiu Chunt Dint, the hotel is located inside the old town. Very nice hotel but a liitle more expensive than standard in the area, our 1 night rate is 2.070ntd per room. Before that we had a dinner first, Kweetiaw fish meetball and tofu at random restaurant inside the old town, all in 105ntd. Most of the shop already closed at that time, but few still open late, we manage get some souvenir and taste Taiwan milk tea.
Trip Map