Reykjavík, Sørvágsvatn & Trælanípa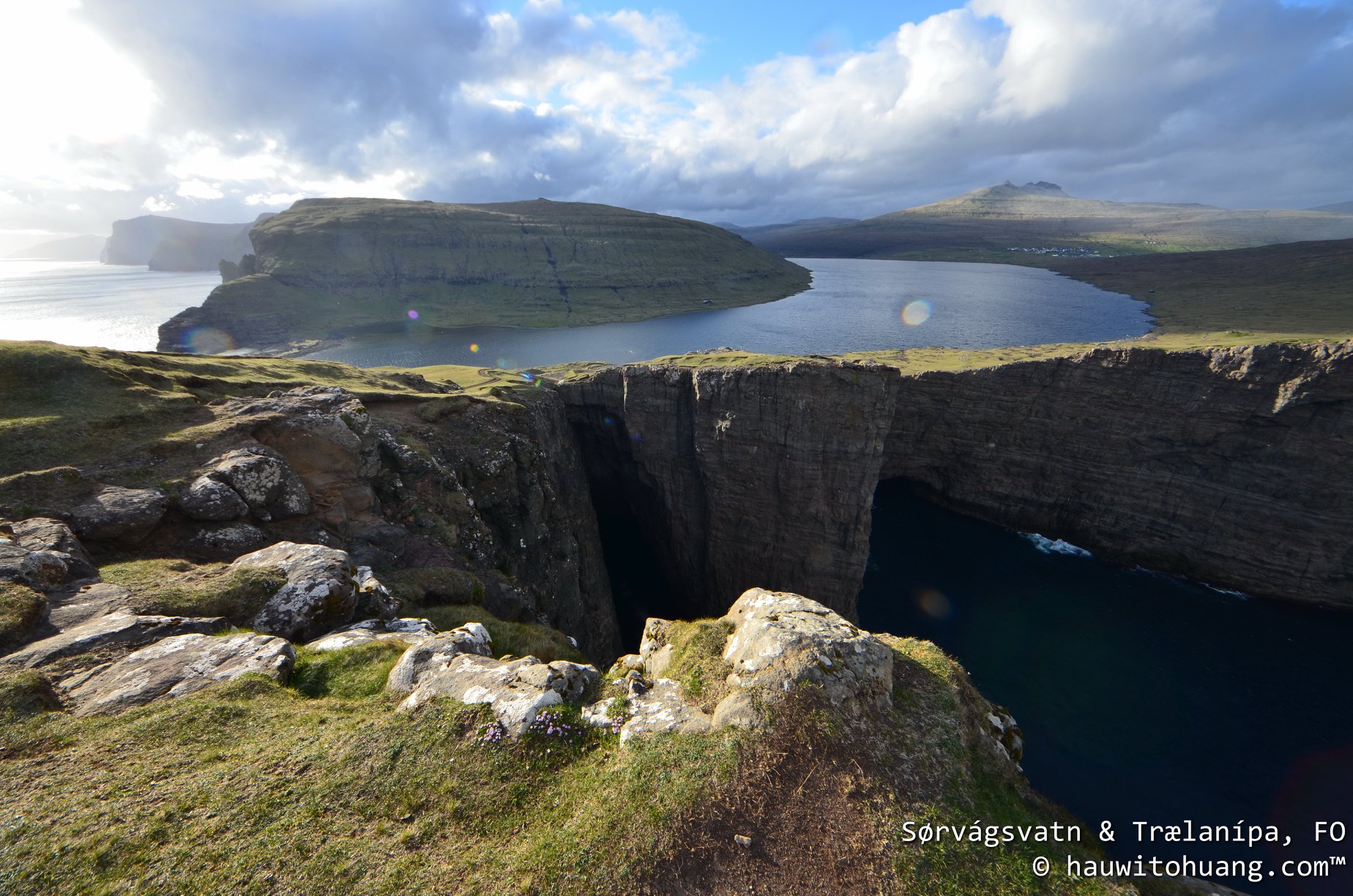 In the morning we stroll around again, nothing different, just like yesterday route. But now Mom and Max walk along. We walk until 10am then pack and go to BSI Terminal where we gonna pick up the luggage from the locker storage and catch a Flybus to airport at 10:30. The ride to airport took 45minutes, once we arrive proceed checkin to Atlantic Airways and go to boarding gate. The flight time is 13:00 and will take approximately 1 hour and 30 minutes with 1 hour time difference beetwen Iceland and Faroe Islands, so will landed at Vagar Airport at 15:25 in the evening.
Once landed we get a baggage and straight to the parking lot where the rental car position is as informed in advance by email. There is no counter or booth for getting the car, you just been informed by email and pick up the car yourself. The car is not locked and the keys is in the car. Well Faroe Islands might be safe place to practice hand over like this. Btw, our rental car provider is Unicar.fo after surveying and get information from the internet, we get the all risk insurance package for hassle free.
Sørvágsvatn & Trælanípa
From Vagar Airport we straight to Trælanípa in Miðvágur Village not far from the airport, about 7km with 7 minutes drives. Trælanípa, where lake and ocean meet is one of the iconic hike in Faroe Islands. It's need 3.1km one way hike and total 6.2km return from starting post in village of Miðvágur Village. The weather in here change in about a minute as you can see from my photo. I had to stay down two times as strong wind and snow blast.
You need to pay 200 DKK per person approx 430k IDR for entering this area without guide and double with a guide. So we had to pay 400 DKK for both of us with no guide. This fee is recently implemented on April 2019 as this is a private land.
Trælanípa (Slave Cliff) is a perpendicular rock wall, which juts 142 meters upwards out of the sea. Supposedly, it has gotten its name from the Viking Age when slaves were pushed off the mountain. Be careful not to get too close to the edge as it is steep! As I was afraid too. From here, you can see the southernmost part of Streymoy, Hestur, Koltur, Sandoy, Skúvoy and Suðuroy.
At the end of Leitisvatn / Sørvágsvatn there are a lot of great sightseeing opportunities:
– Trælanípa, the peculiar cliff that has a gloomy story attached to it
– Bøsdalafossur, the 30m high waterfall flowing directly into the Atlantic Ocean
– Geitisskoradrangur, the beautiful sea stack
– The lake above the sea – and don't forget the viewpoint for the optical illusion where Leitisvatn / Sørvágsvatn lake looks like it is floating high above the sea.
From Trælanípa we ride 40km for about 45 minutes to Tórshavn where we rent an AirBNB for all the days we're in Faroe Islands. We use Tórshavn as an anchor city to explore all the place in Islands considering it's a capital city and easiest to get everything. Arrive at the place, self check-in, have a dine cook by ourself and have a rest.
Trip Map