Dettifoss, Viti Crater & Krafla Power Station, Námaskarð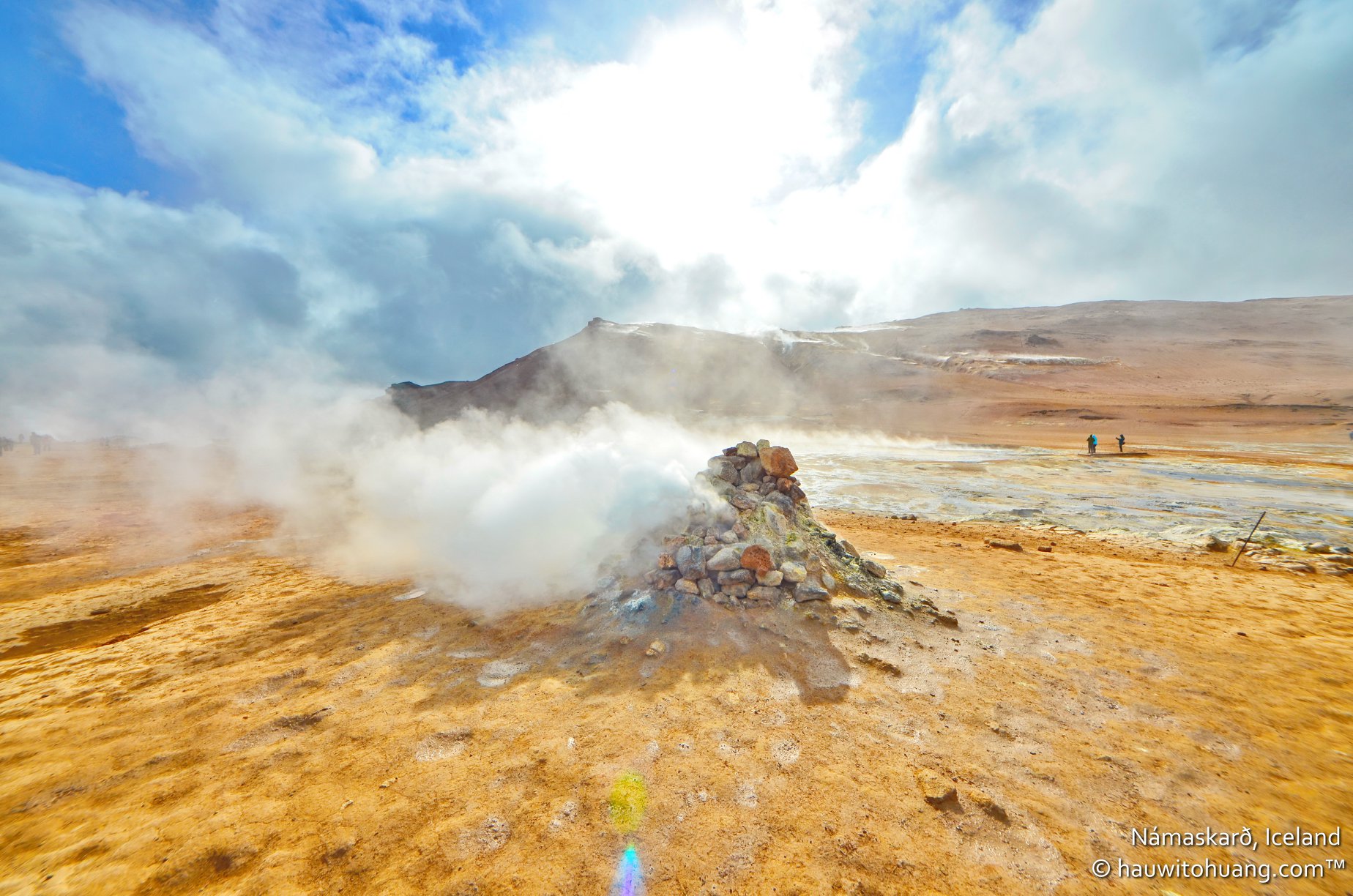 Dettifoss
From Seyðisfjörður we strat the day by driving 189km (2.5 hours) to our first destination in north area which is Dettifoss.
Dettifoss is a waterfall in Vatnajökull National Park in Northeast Iceland, and is reputed to be the most powerful waterfall in Europe. Dettifoss is situated on the Jökulsá á Fjöllum river, which flows from the Vatnajökull glacier and collects water from a large area in Northeast Iceland. The sediment-rich runoff colors the water a greyish white.
The falls are 100 metres wide and have a drop of 44 metres down to the Jökulsárgljúfur canyon. It is the largest waterfall in Iceland in terms of volume discharge, having an average water flow of 193 m³/s. The superlative of "most powerful" comes from its water flow times its fall distance. The water of the wide Jökulsá á Fjöllum river falls for more than 44 metres.
The waterfall is featured in the 2012 science-fiction film Prometheus, standing in as landscape on a primordial Earth-like planet.
Mývatn
Then we continue to Viti Crater (meaning "hell" in Icelandic), 53km or 47 minutes drive. Located near lake Myvatn in North of the country is a circular crater filled with blue water and surrounded by a geothermal area and colorful mountains. Not far from there also you can see Krafla Geothermal Power Plant, is a geothermal power generating facility located in Iceland, close to the Krafla Volcano and the lake Mývatn. It is considered to be Iceland's largest power station with its 33 boreholes, and it is able to produce 500 GWh of electricity annually with its installed capacity of 60 MW (2 x 30 megawatts).
Námaskarð
From Krafla continue to Námaskarð, 10km or 12 minutes drives.
If you've ever longed to walk on the barren red terrain of Mars, experiencing Námaskarð will get you close. Situated on the north side of Iceland's Lake Myvatn, this geothermal wonder of hot sulfuric mud springs and steam springs (solfataras and fumaroles if you're a geology nerd) is otherworldly. Black rivers and bubbling pools of sulfuric mud cut through a landscape that's rich with colorful minerals and is continuously steaming.
While picturesque, one of Námaskarð's most notable characteristics simply cannot be captured by photography – the smell. The eggy stench from the sulphuric mud and steam is pungent and unrelenting. It's enough to make you woozy if you get too close to a steam vent. There's a reason why you won't find vegetation in Námaskarð. Take one deep breath in and you'll know right away.
Actually our plan after this was intended to soak at Mývatn Nature Baths, but for some reason we had to cancel and go straight away to our accomodation at Hotel Gigur by Kea 30km drive from Námaskarð.
Trip Map